Overclocking means running a computer beyond the rated speed, or "certified" speed, as set by its manufacturer. The common method of maintaining the operational stability of a component at high speeds is to increase its voltage. When operating at high frequencies and voltages, semiconductor devices consume more power and generate more heat than devices operating at lower frequencies and voltages.
How To Overclock GPU?
The process of increasing the efficiency of the Graphics cards to an optimal level to get more FPS is usually referred to overclock GPU, this process, however, takes a little bit of attention otherwise you can face a hardware failure. For more details read the content carefully, We have tried our best to collect as much data as we could. Enjoy reading!!!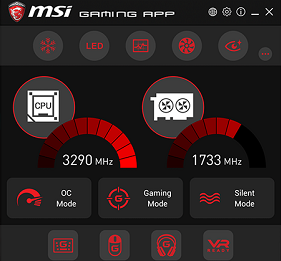 ---
If an overclocked device fails to perform adequately or completely, it may be due to the additional heat load it creates or the inability of the power delivery components to deliver adequate power to support the increased demand. However, I will request you to check the graphics card in detail so that you can learn more about the components and know the technical issues that may arise in the future.
Overclocking is relatively safe, but only if you know how to do it properly. There are many device warranties that state overclocking voids any warranty, however, there are increasing numbers of manufacturers that will allow overclocking if performed carefully.
What is Overclocking GPU? [In Detail]
Increasing the operating speed of a component is the purpose of overclocking. Normally, on modern systems, the goal is to increase the performance of a major chip or subsystem, such as the main processor or graphics controller, but other components, such as system memory or system buses.
It is possible to increase the power of graphics cards. There are several utilities that can be used to achieve this, such as EVGA's Precision, RivaTuner, AMD Overdrive, and Zotac Firestorm. A marked increase in performance in synthetic benchmarks will often result from overclocking a graphics processing unit. Sometimes it can be possible to see that a graphics card is being pushed beyond its limits before any permanent damage is done by observing on-screen artifacts or unexpected system crashes.
You should be aware of how the graphics card associated features before going to overclock it because compatibility may become the biggest issue here. If the processor is not according to the GPU requirements, you can get hardware failure because VRAM and GPUs altogether determine the performance and define how to overclock up to which extent.
How Much Can The GPU Overclock Affect Performance?
It is probably the most common question people want to know, well, the answer is really simple, you can push your GPU up to the required standard, how much can you push your system to get those results but keep in mind, never get hasty if you are planning to start GPU mining for the first time or you don't know about the manual settings.
What to do Before You Overclock Your GPU?
There was a certain mystique surrounding the concept of overclocking in the days when it was still new. If they saw it, many PC users might have been perplexed. The process has been simplified and streamlined so there isn't much preparation needed.
You might not need to open your PC case at all. If you took care of cable management in the first place, you should be able to ensure that the cables inside haven't shifted and that the air is flowing freely through the case. The fans of the graphics card will need to cool even more than before, so make sure the card can breathe.
There are two ways of overclocking your GPU, first of all, it depends upon your operating system, if you are using a Windows-based system, you need the GPU manufacturer's software to overclock, but if you are using a mining rig to earn cryptocurrency, you must go for HiveOs, the best Linux operating system used to mine, there is an option overclock your GPUs, so both ways vary upon the nature of work you are associated with. Let's go deeper inside one by one.
GPU Overclocking For Miners:
Hi wealthy miners! If you are a beginner and want to start mining, well, you can mine using Windows-based mining, you can use the next step mentioned down here, however, the results would be optimal, and you will get some kind of lower Hashrate.
GPU overclocking for miners in Windows:
The process is the same as mentioned below, where you can use the manufacturer's software to adjust the overclocking of your GPU. Follow the instruction down there. You must use kryptex if you are planning to mine on Windows PC whether it is a gaming pc or a mining rig using Windows as the operating system. I personally suggest miners at least go for these articles first before going to start mining.
Download the software: kryptex
This information will help you to understand how to build a rig without anyone's help.
GPU overclocking for miners in Linux:
One of the prominent ways of overclocking your GPU using Linux will help you to get a much better Hashrate than using Windows-based Software such as Kryptex, NiceHash, Cudo Miner, MultiPoolMiner, Salad, and Hashgains, HiveOS is the most trusted platform to mine on Linux based operating system.
HiveOS has become Hiveon: click here
If you have installed your GPUs on your farm, Hiveon offers you to change your settings one by one. Suppose you have a GeForce RTX 1660 Ti GPU, you can click on speed icon, highlighted in green color, and a dialogue box will appear where you can put all the details mentioned over here.
You need to check out the page from where you bought the product, there are memory clocks and boost clocks mentioned over there, you must write less than whatever is mentioned, suppose the memory clock is 1750 Mhz you should write here 1700 or less, it will increase your GPU life and also turn your fan more than 70 to keep the temperature low as much as possible.
GPU Overclocking For Gamers/ GPU Overclocking for Miners using Windows OS
You can use GPU's official software to overclock your GPU however since we are going to share the example of MS because their software is really compatible, it would be easy to move on. It's important to spend a good amount of money on your rig to make sure you stay up to date with the latest games. If you find yourself playing any of the recently released game titles and noticing your graphics card is struggling to keep up, it is possible that you have a problem with your graphics card.
After all, recent game titles are jam-packed with all kinds of new visual effects and high-definition texture, ready to be played at up to 4k resolutions or on multiple monitors. How can you squeeze out those extra frames from your graphics card?
Try to Focus on the following things before going further:
Fan speed should be 100% in Afterburner
Run almost 15 minutes before overclocking
The most important part of overclocking any graphics card is finding out how to measure the thermal capacity of your current setup. This will help you determine whether or not your current thermal solution can keep up with what your card can do.
The difference between your graphics card's maximum temperature and 90 degrees Celsius is the margin you have for overclocking. If you have one or more MSI graphics cards with a Twin Frozr cooler, then your card should be suitable for overclocking.
It is a trial and error process where you are trying to find the sweet spot of maximum performance while keeping the temperatures within safe values. To discover the maximum performance of your graphics card, you have to push it past that point. Don't let it get you down. Black screens, crashes and errors are part of the road to success.
If you check the boxes that say "Unlock voltage control" and "Unlock voltage monitoring", you will be able to increase the Core voltage of your graphics card. Your clock speed should be visible on the Hardware Monitor now that it has been selected as the default.
It is time to run the Unigine Valley test to find out if your graphics card will keep cool. If your screen suddenly turns black and you see an error after that, do not panic, this is what happens when the graphics card becomes unstable and crashes under stress. Thanks to built-in protection, your graphics card most likely doesn't have taken any damage but has reverted back to its default values. If this happens, we recommend you to restart your PC in order for the display drivers to function properly.
When you have your card overclocked as described in the above steps, it's up to you to find the sweet spot. The Afterburner allows you to save your settings into a profile so that you can switch between stock settings and your new high-performance setup for gaming whenever you want it.
Watch YouTube Video:
You can watch the video by clicking over here.
MSI Afterburner, MSI Kombustor or any third-party software can damage your PC components including motherboard and graphics card failure, or, you can face unusual errors if overclocking is not done properly, Keep patience, don't get hasty while doing overclocking, check all cables, switches, and boards twice.